Introducing our 2018 Bloggers.
We are pleased to announce our 2018 Bloggers at FaMESHed! We had received numerous applications and it was no easy choice as always.
We like to give everyone a chance to blog for FaMESHed which is why we give out Guest Spots from time to time and refresh our Blogger list yearly. We love and adore the Bloggers in Second Life®, and it is why we go through this once year.
The 2018 Bloggers are as follows:
AdrianeSilvaa – Alexa Maravilla – Alexa Sabetha – Anuska Loon – aracelisoto Callie Hamelin – Coqueta Georgia – Crankz Zero – Cub – Damonfrost – Divos Titanium – Engelsstaub Resident – Gabriella Marshdevil – Guilhermedandretti – Hikaru Enimo – Igoralmeida Blackbart – Inkie Loudwater – IRehami – JoJo Deed Juliapariz – JuliaStiv Resident – Kaike4 Andel – Kumuckyhara Resident – Lara Ubert – LexxiHudson Resident – Lidsa – Lotus Mastroianni – LuaneMeo Resident – Mikejr Back – Miss Vian Winter – Neda Andel – PinkRayne – Priscila Olrich – Ricktryit23 Resident – Rina Grayson – RXDE Resident – Saelwen Resident Sandryta87 – Shocking Wonder – Volupturaptor Perl – Zeke Jestyr
Those who have been placed on the Wait List will have received a notecard from our Blogger Manager LawrenceD. Thank you to everyone for applying, and we look forward to seeing your work in the future!
With love, FaMESHed.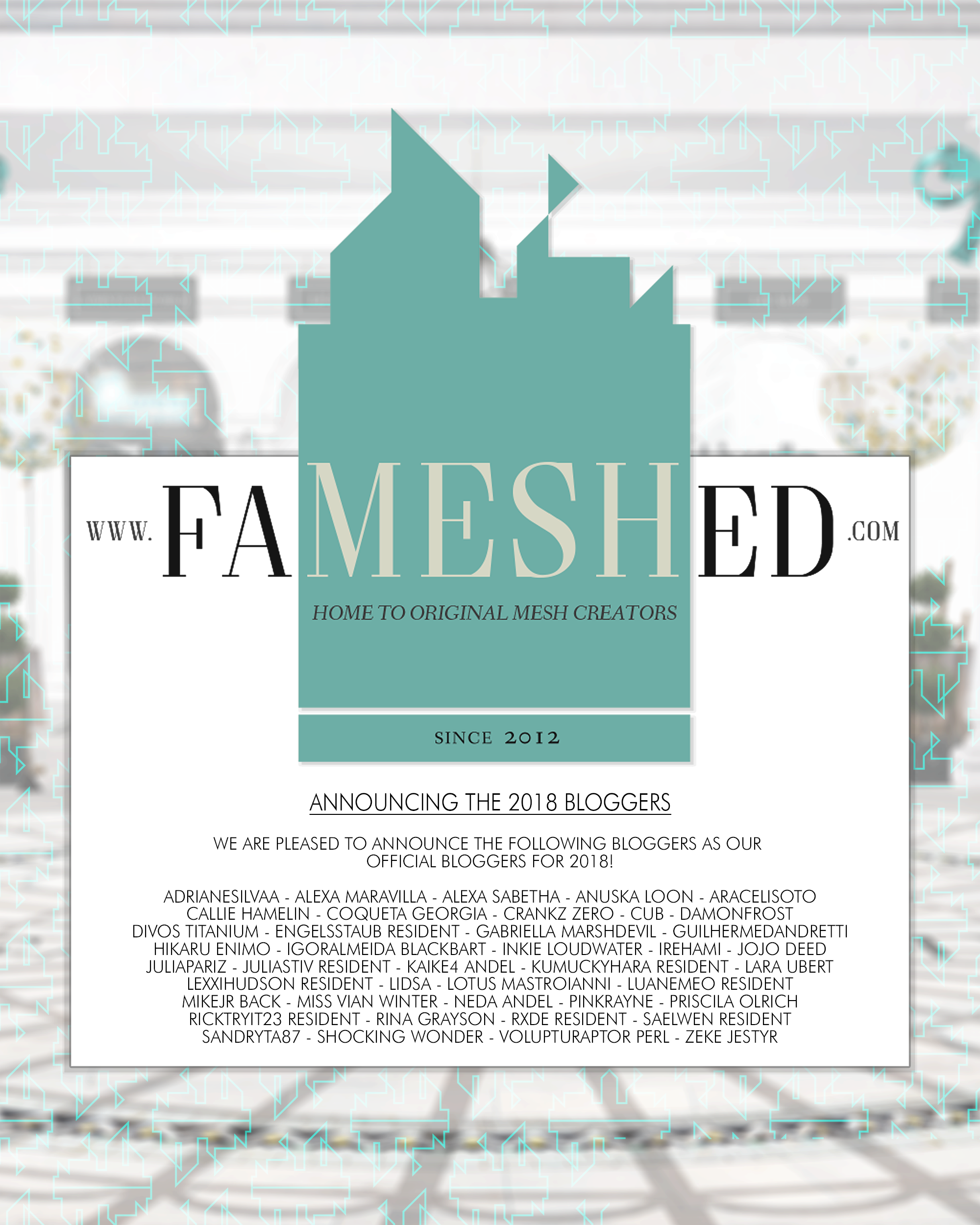 ---